July 3rd, 2022
Solar electricity production could increase tenfold by 2025.
Renewable energy continues to gain ground in Alberta. According to an analysis by the Business Renewable Center, $3.7 billion will have been spent on renewable energy projects between 2019 and the end of 2023.
Many organizations want to reduce their emissions and achieve their ambitions of carbon neutrality in 2050, explains the president of the Center. Nagwan Al-Guneid, whose organization is an initiative of the Pembina Institute and aims to advise companies that wish to invest in renewable energies. According to her, the abundance of wind and sunshine coupled with the functioning of the province's electricity network make the province very attractive for investors.
Alberta is home to the only unregulated electricity market in Canada. The province has a multitude of electricity-generating companies that can sell directly to their customers without going through a state monopoly. According to Nagwan Al-Guneid, it is therefore much easier to invest in renewable energy projects there. Many of these investments come from businesses outside the province and from oil companies seeking to reduce their carbon footprint.
Contracts signed so far in 2022 will add 191 megawatts (MW) of renewables to Alberta's generation. According to the International Energy Agency, Alberta provides a solar resource similar to that of Rio de Janeiro, Brazil.
The growth is also occurring without the help of the provincial government, which abolished several programs aimed at supporting renewable energies after the United Conservative Party came to power. Residential and commercial projects from loan and grant programs set up by Ottawa and municipalities.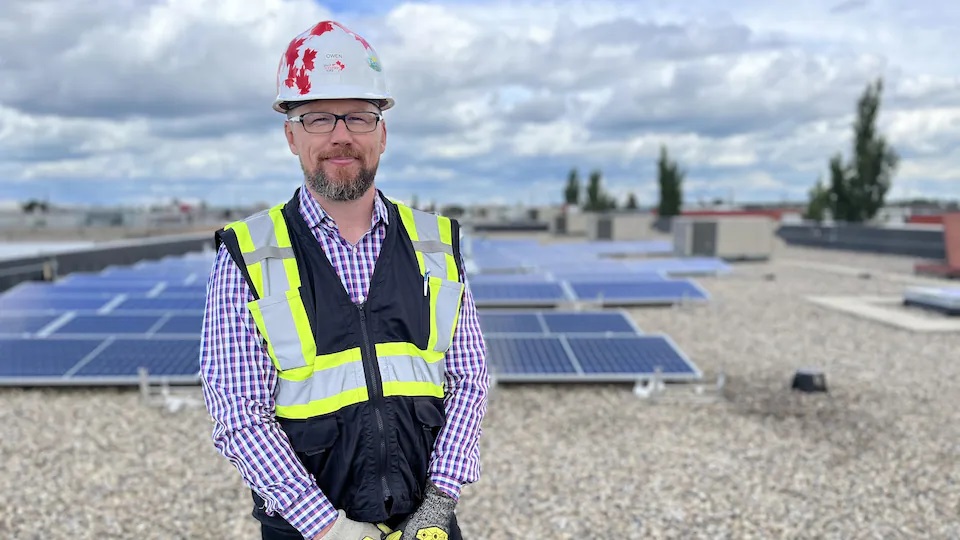 Business is good for renewable energy producers, confirms Owen O'Connor, Project Manager at Great Canadian Solar, an Edmonton-based company.
There are a lot of activities, especially for large-scale projects in the south of the province, he specifies. The comeback of the oil sector, and the billions in profits it generates, does not seem to want to curb the enthusiasm for solar and wind energy.
According to the Alberta Electric System Operator (AESO), the organization that manages the province's electricity grid, these large solar farms had a total generating capacity of 892 MW in May 2022, a number that has increased sevenfold in just two years.
AESO expects capacity to reach 11,700 MW in 2050.
Soaring oil and gas prices are also expected to fuel interest in solar and wind, which are now more price competitive with fossil fuels.
Labor Challenges and Procurement
The various blockages in the supply chains, including the floods in British Columbia in the fall, are slowing down the construction of certain projects. The rapid growth of the industry also creates a strong demand for labor, notes Owen O'Connor, who himself began his career in the oil sector.
We definitely depend on the same pool of workers [as oil and gas], explains the native of Fort McMurray. We try to be more efficient by doing as much pre-assembly as possible. It's something everyone has to adapt to.
In an attempt to meet demand, the College of Medicine Hat welcomed the first cohort of a program at the end of June which aims to train oil workers in the installation of solar modules.
Instructor-electrician Stan Hansen confirms that the demand is strong for qualified labor. Many people are tired of the ups and downs of the oil industry. They want something more stable. You see a lot of people from other industries going solar. He also notes that several of his students already have agreements to work as electricians in solar energy companies.
Workers still Interested
Many of the participants in the program are there out of environmental conviction. Renewable energy is now. Oil and gas won't last forever, says Michael Chow. He currently works in the natural gas sector but hopes to take advantage of the training to find work in the renewable energy sector.
Michael Chow would like to leave the natural gas sector for that of renewable energies. The rise in oil and gas prices is not enough to convince him to change course.
Others want to marry the two industries. This is the case of Drayshawn Stanley. He traveled from Frog Lake First Nation in northeastern Alberta and works for an Aboriginal-owned and operated oil company. Drayshawn Stanley would like to see renewable energy development in his community of Frog Lake. He would like to be able to convert some of the First Nation's thousands of oil wells into small solar installations.
This would generate long-term income, he explains. It will also provide electricity for our residences and our infrastructures. It could also run oil well pumps, he adds. I hope that I will be able to bring back this knowledge and that it will benefit my whole community.
Author: Francois Joly, CBC Edmonton
Article translated to English, to read the original French version click here.
Watch the CBC segment here (French version only)
Tell us about your project
To get started with us, get in touch! We will get back to you with how we can best help get your project off the ground.